Robert's Google+
Lazada Malaysia voucher code for everyone purchasing items with extra discount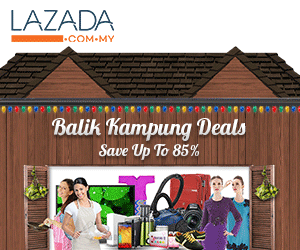 There will be a massive sales in Lazada Malaysia for this month as
Hari Raya Aidilfitri
is around the corner. Everyone is so happy there are few more days left. Keep your faith strong continue abstain from food and water if you are able and healthy person.
Live life to the fullest. Feeling like Hari Raya in coming tomorrow no doubt the sign is surfacing. Have you seen large traffic congestion and people raging at the street ?? Well, do your part and this is your responsibility to reduce the impact of road congestion. How ?? Like the old saying, preparation must be as early as possible.
It was impossible to prepare early ? It just a reason and excuse by people who do not know how to do it or just want buy when shopping mall is crowded. Have you consider the shop staff feeling ? they might have headache or wrongly calculate your money. By the time you found it out, you have no reason to go back because counter were full of people.
Parking lot is a big issue in Malaysia. Although car is consider luxury but there were always not enough parking lots. We do not have those sophisticated parking lots yet so you need to be tolerate about this. The best solution for this is you need to do a preparation early.
There are so many best online deals out there in conjunction of Hari Raya. You should not missed this opportunity. Get them before it too late !! Sales is everywhere look harder you will notice them. For example,
Lazada Balik Kampung 2014 deals.
Sharing is caring below are voucher code where you can insert when purchasing at Lazada Malaysia. Do share this out !!
Voucher code
: LazSuperRaya
Voucher amount
: RM25
Minimum spending
: RM150
Validity
: 16 July - 25 July
If there is any problem the voucher do blast it at the comment section. Want more ?? I will tell when there is more voucher codes